Literacy Programme
---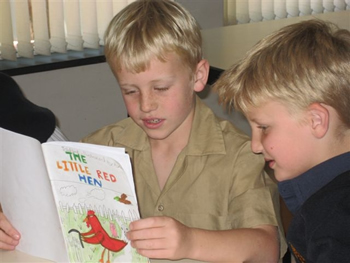 The main focus here is language acquisition and development of communication in both the Home Language and a First Additional Language.  English is the language of instruction at Bishops although it is not every boy's 'Home Language' - support is given to learners where required.  Afrikaans is introduced informally six months into Grade 1 and then more formally in Grade 2 where the phonics and vocabulary are taught together with the introduction of reading.  Xhosa is incidentally taught from Grade R through the medium of songs and simple phrases as an introduction to the language, which is formally introduced at the Prep school.
We make use of the Shortland Reading Programme from Grade R through to Grade 2 combined with Letterland, the Ginn Reading Series and other readers to teach reading.  We have a vast range of suitable readers for our Independent Reading Scheme as well as a Reading Laboratory, which is widely used by our more advanced readers.  We have the fulltime services of a Reading Assistant, who is a qualified teacher.  She assists boys mostly in Grade 1 and 2 on a daily basis; however, natural readers in Grade R are also given support.
Our outcomes for this learning area include the following – listening for information and enjoyment where learners are encouraged to respond appropriately and critically in a wide range of situations; speaking confidently and effectively; reading and viewing different texts; writing different kinds of texts which might be factual or imaginative for different purposes; thinking and reasoning; acquiring the structure of language using sounds, words and grammar.
---